Executive Director Pam Eidson, MEd, PAPHS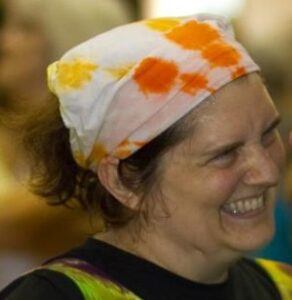 Pam began her career in health promotion in two state public health departments, West Virginia and Georgia, before entering nonprofit association work. From her former position at the Directors of Health Promotion and Education, she helped to found the National Physical Activity Society. NPAS members include professionals in state and local public health, universities, K-12 schools, nonprofits, urban planning, and more.
As executive director of NPAS, Pam conducts needs assessments and promotes public health approaches to physical activity. One example: In response to member concerns that walkability was seen as only an urban issue, she assembled Stories from Small Towns, one pagers describing steps taken by towns of under 25,000 population that benefit walking and biking.
Partnerships are a high priority for the National Physical Activity Society. Pam serves on the boards of the National Physical Activity Plan Alliance and the National Coalition for Promoting Physical Activity, and she co-chairs the coordinating committee of the EveryBody Walk! Collaborative. In her non-working hours she coordinates folk dance events and recently served on the Lloyd Shaw Foundation board. Her passions include family dance camps, dogs, board games, and walking.
See her blog post about walking daily for a year. Pam walks, reads, works, laughs, plays, and wonders in Decatur, Georgia.
"Physical activity is for everyone, not just the already fit and those trying to lose weight. The concept of being physically active has become too associated with weight loss, so much so that many people of all sizes exclude any exertion when not trying to lose weight. It's our job to address that. For public perceptions to shift we need to meet the prevailing attitudes with astute messaging."
–Pam Eidson, MEd, PAPHS