15 Towns of 1,500 to 20,000 People
See also Webinar featuring three stories from the 2nd edition.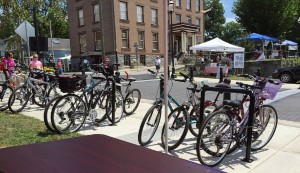 Stories from Small Towns, a project of the National Physical Activity Society, demonstrates that structural changes to make walking, active transportation, and recreation easier can be carried out in America's thousands of small towns and not just its big cities. The project focuses on advice from towns that have made some changes, with the aim of inspiring town leaders across the country to see such infrastructure as possible and worthy.
The National Physical Activity Society is a 501(c)(3) nonprofit organization promoting public health approaches and collaboration to create active communities. Members include state and local health department personnel, university researchers and professors, fitness professionals interested in broader impact, nonprofits, and other interested individuals.
Any errors in the reports are solely the responsibility of the National Physical Activity Society.
Copyright ©2015-2016. These reports may be used in any noncommercial manner for educational purposes and to advance public health.
***************
Stories from Small Towns, 2nd edition, September 2016
Sergeant Bluff, Iowa  (featured on webinar)
Sulphur Springs, Texas  (featured on webinar)
Soap Lake, Washington (featured on webinar)
***************
Stories from Small Towns, 1st edition, 2015
***************