The National Physical Activity Society grew out of an organization that was originally, circa 2006, called the National Society for Physical Activity Practitioners in Public Health1. About five years ago the board determined that "in Public Health" was too limiting. With the proliferation of organizations and professions around the country contributing to physical activity, the board realized that the organizational audience was too broad to fit into that construct. Membership was then opened to anyone with an interest in public health approaches to physical activity. The educational offerings and thrust of our work are not intended for those whose role in physical activity is solely as a fitness class leader or trainer, for example, but for those who have a professional (or personal) interest in expanding the reach of physical activity in the U.S.
Where does one find those people working? State and local public health agencies are our top two most common workplaces among members, but according to our surveys we also have members who work in nonprofits at the national, state, or local level; city planners; K-12 school personnel; military; consultants or entrepreneurs; recreation, transportation, public health law, and universities.
Research into physical activity has a strong professional focus through the Active Living Research conference and organizations like the Physical Activity Policy Research Network Plus.  The PAPRN+ network connects academics to share projects and collaborate on physical activity policy research. We at NPAS participate in that network as part of our role in interpreting and translating research into practice. We work with members of the PAPRN+ network on some of our projects, and we invite researchers to present on webinars. Researchers are welcome to membership in NPAS. Our role in dissemination can help researchers know their efforts are getting out.
Academia is fairly easy to understand, but what are the activities conducted by other physical activity practitioners? In our 2014 and 2016 surveys, we asked "what activities do you carry out often or sometimes, but not rarely?" Here's what the word cloud from the first of those surveys looked like. The larger the term, the more times it was mentioned:
Responses from the 2016 survey showed more than half frequently conduct the following activities:
Accessing and using physical-activity-related data
Building capacity of partners or locals to engage in PA activities
Promoting walkable community initiatives
Contacting partners to discuss physical activity efforts
Recommending effective intervention strategies
(The table with frequency of responses to the 27 options follows this article).
So from looking at the verbs in just this brief subset of activities, you can infer that the activities involve building rapport and relationships, convening and attending meetings, computer skills, persuasion, synthesizing information, communicating well, and generally demonstrating leadership and good judgment. These types of skills represent those needed in a Knowledge Economy: Intellectual interpretation and discussion of strategies, activities, and tactics, working toward strategic plans. All the business speak you find difficult to convey in the grandmother test,2 but with a public good mission rather than a single-bottom-line financial benefit.
Another place to look for insight into physical activity practitioners is our Physical Activity in Public Health Specialist (PAPHS) core competencies for certification. Subject matter experts convened beginning in 2007 to identify the tasks that comprise a PAPHS's responsibilities.  We use these competencies each month in determining how our webinar offerings benefit certified PAPHS. Core areas of Partnerships, Data and Scientific Information, Planning and Evaluation, Interventions, Organizational Structure, and Exercise Science in a Public Health Setting feature the knowledge, skills, and abilities needed by PAPHS. We are in the process of updating the competencies to fit the format needed by the manager of our certification, the American College of Sports Medicine. In so doing, a few of the competencies may be revised.
Still another place to look for clues is the National Physical Activity Plan. Browsing through the NPAP sectors and top strategies, one can glean an idea of who the strategies are designed for. Many strategies start with "Physical activity and public health organizations should," while others speak directly to planners or transportation officials. In the Mass Media category, though, all of the strategies begin with PAPH or 'government health agencies.' An implication is that Mass Media isn't a field where one finds physical activity practitioners, but rather a means for those practitioners to use in influencing communications.
In explaining what a physical activity practitioner is, I often find myself either leaving out swaths of people or providing too much information. I frequently use the term "public health approaches," which conveys something to people in Public Health, probably, but maybe not to everyone else. What I mean by "people using public health approaches" is:
Practitioners are professionals who use data-driven, population-based, cross-sectoral strategies (i.e., coordinate or collaborate with partners from public health agencies, schools, transportation, planning, recreation, community organizations, etc.) in developing or recommending interventions and messaging about community places and their effects on physical activity.
Practitioners have an emphasis on policy (with a little p3) and changes to the community environment.
Practitioners pay attention to the effects of interventions on different subsets of the population, based on factors such as age, race, language, ability, socio-economic status, or location. We term this 'health equity.'
Practitioners typically see the socio-ecological model as a set of influencers that ranges from interpersonal through community to the wider influence of statewide or national policy or environment.
Practitioners assess the environment affecting physical activity and determine whether new policies would have success and whether existing messaging should be re-tooled.
Practitioners might work full time on physical activity (as ⅕ of our survey respondents do) or as only a portion of their time.
Practitioners might specialize in training, or policy, or writing and communications–and they still fit in the overall scheme of public health approaches.
So does this fit? What does it leave out?
In summary, we've chosen a profession that doesn't boil down well to economy of words. Physical activity practitioners are professionals who use public health approaches to promote physical activity. They are often but not exclusively found in public health settings.
-Pam
Pam Eidson, MEd, PAPHS
Executive Director, NPAS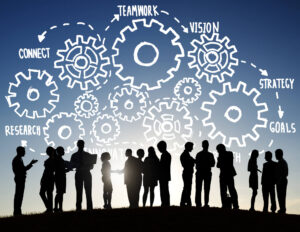 Photo credit: Dreamstime 50274164
NOTES
1NSPAPPH formally combined with the Educational Foundation for Physical Activity and Public Health in 2012 to create one 501(c)(3) organization with the trade name National Physical Activity Society.
2The Grandmother Test: I never passed it. In the early part of my career — even while still in grad school — I tried to explain to my Master's-degree-educated, college professor grandmother what I was doing. I even stayed with her while holding meetings and trainings in her town. Not once did she get it right when summing up what degree I was pursuing or what profession I then held.
3Policy Big P/little p: This distinction has become fairly common in public health. Basically the "Big P" refers to legislative policy, which is a legitimate public health role that is often off limits to many rank and file public health professionals. The workplace policy that makes it off limits is (usually) an example of "little p," which more generally refers to any set of requirements or rules for procedures in a place or community. 'Little p' policies don't have to be legislatively enacted. They can be as informal as a boss who encourages employees to take 20-minute walks to talk ideas through with a colleague or as formal as a community development plan.
2016 PAPH Survey Question 1

– What activities do you carry out often or sometimes, but not rarely? (n=186)

%, then raw number

Accessing and using physical activity-related data (16)
63.98%

119

Building capacity of partners or locals to engage in PA activities (9)
56.99%

106

Promoting walkable community initiatives (24)
52.69%

98

Contacting partners to discuss physical activity efforts (5)
52.15%

97

Recommending effective intervention strategies (19)
51.08%

95

Representing PA across chronic disease prevention efforts (20)
48.92%

91

Promoting bikeable community initiatives (25)
44.09%

82

Active transportation efforts (17)
43.01%

80

Increasing walking at worksites (26)
42.47%

79

Research and/or evaluation on physical activity initiatives (13)
40.32%

75

Promoting concepts of the Surgeon General's Call to Action to Promote Walking and Walkable Communities (12)
36.02%

67

Leading a coalition or collaboration (22)
35.48%

66

Promoting safe routes to schools (1)
35.48%

66

Representing state or local health departments with other cross-sectoral partnerships (21)
34.95%

65

Issuing messages on social media (11)
34.41%

64

Ensuring people with mobility impairments are included in PA (27)
28.49%

53

Consulting with transportation officials (7)
26.88%

50

Ensuring that the impact on physical activity is considered in all health policies (23)
26.34%

49

Developing or implementing a community health improvement plan (18)
25.27%

47

Providing technical assistance to communities with high health disparities burden (10)
24.19%

45

Answering questions from the public on exercise physiology (6)
24.19%

45

Consulting with urban planners (2)
22.04%

41

Conducting or teaching health impact assessment (3)
20.97%

39

Teaching physical activity at K-12 school or higher education (14)
16.13%

30

Speaking with broadcast media personnel (4)
14.52%

27

Teaching public health including PA in higher education (15)
13.44%

25

Writing policy briefs (8)
9.68%

18

Total Respondents: 186